Pro Bono: Ethics in whole cloth
Celebrity activist Bono and his wife recently launched the spring 2012 collection of their Edun fashion label, and talked about fashion, African trade and those omnipresent sunglasses. David Lipke has the story.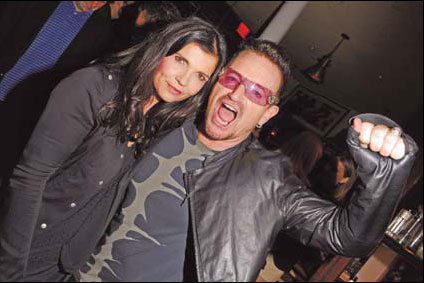 Ali Hewson and husband Bono celebrated Edun's spring women's show and the launch of the men's "Pioneers Project" marketing campaign recently. In between courses of crab cakes and mac 'n' greens, they shared their philosophy on how the catwalk can be a platform for fair trade.
"It's strange to hear an activist like me say that, but Edun cannot be famous for its do-gooder sensibility. The vision has to be an aesthetic one. I thought the floral patterns with the African prints on top of them were incredible, but if I start talking about fashion, just thump me," Bono is the first to admit that he's a novice when it comes to talking fashion.
But he also thinks the Edun business model is a good way to accomplish philanthropic goals.
"Aid, which I spend half of my life fighting for, is a stopgap. Trade is what takes people out of poverty. Africa faces a couple of big hurdles in the next few years. AGOA (the African Growth and Opportunity Act), which is a trade pact between the United States and Africa, runs out in September next year.
"Unless Africa starts to produce its own high-level fabrics and improves quality of production, many, many factories will close. That's the worry.
"Now the opportunity is open-ended. This is a continent that by 2050 will dwarf any other continent in population. Its richness is well known, under the ground. We just need to get it into the people's hands. The tools to do that are creativity and commerce. We want to be a part of that."
His wife, Ali Hewson, shares the same vision.
"What we wanted to do was to work on the ground in Africa. Bono was working on a macro level with governments and debt cancellation. We wanted to see how the policies translate to factories and the ordinary worker and their daily lives.
"It's such an incredible continent, so sexy and bright, and they want the jobs. Every one percent of world trade accounts for $155 billion in trade. That's four times what sub-Saharan Africa gets in a year in aid," she says.
But Edun, their fashion label, is a for-profit company.
"This is not a charity. It's a business. This is a for-profit company. A lot of people don't get that about Edun. This is trade. We can do this, and everybody can do this in Africa," she says.
"The fashion industry is often considered superficial, but it's actually a huge employer as an industry. It's the first industry in any country that is developing, so it's very important. And it's important that we do it right."
With Edune drawing inspiration from Africa, how about Bono's personal style, and how about those signature sunglasses?
"I'm not sure I have any," Bono says about his style, and as for the sunglasses "You need something to hide behind when in your songs you've left yourself no place to go. Our songs are very operatic, very raw, very personal. There're a couple of reasons why I wear my sunglasses.
"One of them is that it gives me a one-step remove from people I don't know."